Preview & Reserve the GMC Hummer EV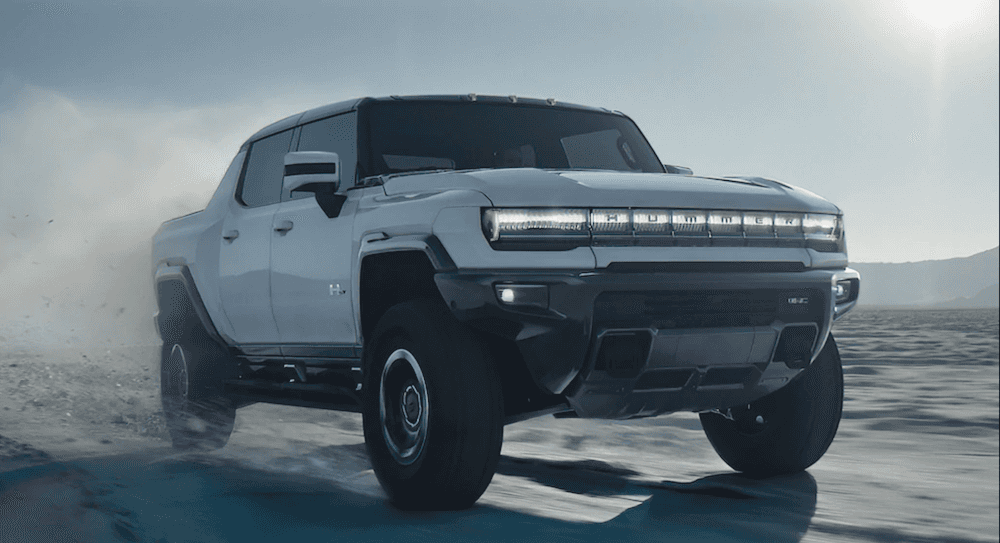 The GMC Hummer EV is quietly making its way to off-road trails near Raleigh. After making its initial debut in October 2020, adventurists and thrill-seekers are racing to pre-order the new GMC Hummer all-electric supertruck, which is expected to be available for sale in the Fall of 2021. Offering output up to 1,000 hp and 11,500 lb-ft of torque and equipped with a bevy of revolutionary off-road features, the GMC Hummer EV knows no bounds. Get to know the new GMC Hummer with Hendrick Chevrolet Buick GMC Southpoint down below, then find out how you can pre-order a GMC Hummer EV of your own today!
GMC Hummer Electric Truck: Trail-Worthy Features
Leading-edge off-road features have a heavy presence in the GMC Hummer electric truck, including the first-of-its-kind Extract Mode, up to 18 camera views, 35-inch tires, and so much more. Check out the trail-ready details, below:
CrabWalk – When presented with a tough spot on the trail, the GMC Hummer EV doesn't shy away. Thanks to the available CrabWalk feature, you can power through narrow, hard-to-navigate areas with ease. At low speeds, CrabWalk engages the 4-wheel steering system to turn the rear wheels up to 10 degrees in either direction, allowing you to drive a diagonal path away from the obstacle. 
Extract Mode – This first-of-its-kind feature works in tandem with GMC Hummer Adaptive Air Ride Suspension to give you an extra six inches of clearance when you're at risk of damaging the underbody.
UltraVision – Situated on the underbody of the GMC Hummer, the UltraVision camera system is waterproof and provides up to 18 real-time views. Use it to navigate the off-road with greater confidence knowing exactly what's in front of, behind, and underneath your vehicle at all times.
35-Inch Tires – Specially engineered 35-inch Goodyear® Wrangler All Territory tires contribute to the fantastic ground clearance afforded by the GMC Hummer EV. On the trail, they provide the traction you need, and on the pavement, they make for an always comfortable ride.
Standard Independent Front & Rear Suspension – Independent front and rear suspension keep you confident and in control, no matter what type of conditions lie ahead.
Full Underbody Armor – Opt for this available equipment to ensure the underside of your GMC Hummer is protected during rough off-road excursions. Full underbody armor and rock sliders protect the differential and battery pack from damage that can be caused by rocks and other obstacles.
4-Wheel Steering – The GMC Hummer EV is no compact ride, but with 4-wheel steering, it handles like one. When you opt for this available system, the GMC Hummer provides enhanced responsiveness and a smaller turning radius.
Get Up to 1,000 Horsepower in the GMC Hummer EV
The electric GMC Hummer is a beast off-road, but what is its performance like on the roads and highways of Cary? Let's take a look:
Up to 1,000 hp
Up to 11,500 lb-ft of torque
0 – 60 mph in approximately 3 seconds
What is the GMC Hummer Electric Truck Range?
How far off-road can an electric vehicle really go? The GMC Hummer electric truck is practically boundless, with an estimated electric driving range of 350+ miles!
Estimated electric driving range of 350+ miles
Select trims are compatible with 800-volt DC fast chargers up to 350 kW to achieve 100 miles of range in just 10 minutes of charging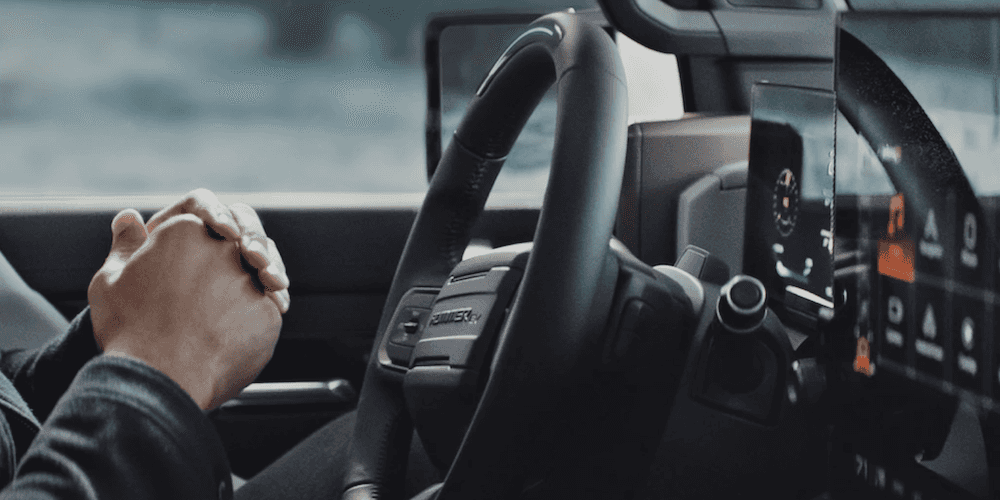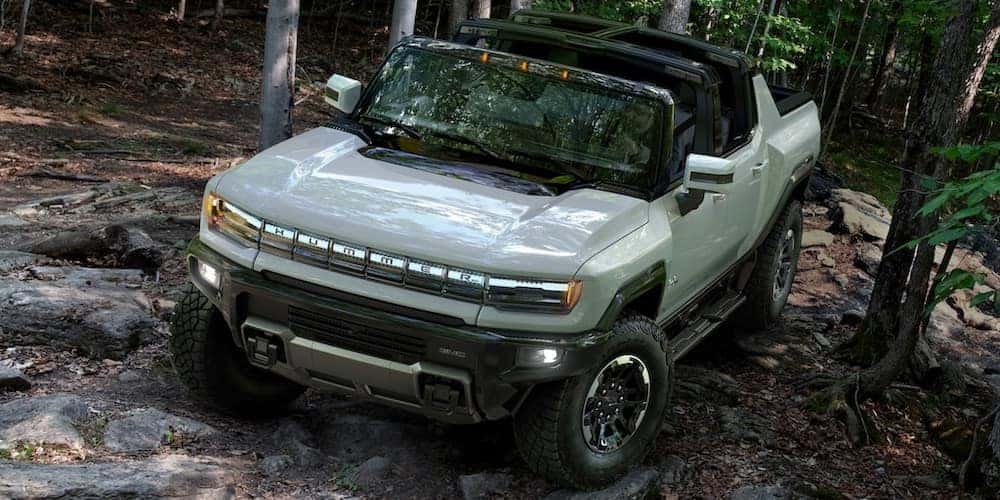 What is the New GMC Hummer Price?
The big reveal of the GMC Hummer EV featured the EV Edition 1 trim, which will be available in the Fall of 2021. There are three additional GMC Hummer trims that haven't made their debut yet, but are slated to release between Fall 2022 and Spring 2024. Get the full story on the GMC Hummer prices and trims, here:
GMC Hummer EV Edition 1
Available Fall 2021
Starting at $112,595 MSRP
GMC Hummer EV 3X
Available Fall 2022
Starting at $99,995 MSRP
GMC Hummer EV 2X
Available Spring 2023
Starting at $88,995 MSRP
GMC Hummer EV 2
Available Spring 2024
Starting at $79,995 MSRP
Reserve the GMC Hummer Now!
You may not see the GMC Hummer electric truck around Chapel Hill until the Fall of 2021, but you can be sure you're one of the first to get behind the wheel by reserving your GMC Hummer EV online. All it takes is a $100 deposit that is fully refundable and the following information:
Choose the trim you want to reserve
Select Hendrick Chevrolet Buick GMC Southpoint as your dealership
Provide necessary contact information so we know how to reach you in the future
Submit!
When the day arrives to place the official order for your GMC Hummer, we will contact you to complete the process! In the meantime, feel free to reach out to us with any questions. Want to be adventuring off-road sooner rather than later? Check out our current GMC truck inventory to see some trail-worthy options.
More from Hendrick Chevrolet Buick GMC Southpoint
If you're searching for an SUV that truly has it all (great gas mileage, a spacious interior, and an abundance of features for an affordable price), you can't go wrong with the new 2021 Chevy Equinox! With its standard 1.5L Turbo 4-cylinder engine and front-wheel drive, the 2021 Chevy Equinox gas mileage is an outstanding…

Searching for a tough new pickup truck that won't let you down on Raleigh and Cary job sites? You'll certainly want to check out the new GMC Sierra 1500 at Hendrick Chevrolet Buick GMC Southpoint! Properly equipped, the 2021 GMC Sierra towing capacity maxes out at 11,800 pounds. This is with the available 6.2L EcoTec3 V8 engine and the…

The GMC Hummer EV is quietly making its way to off-road trails near Raleigh. After making its initial debut in October 2020, adventurists and thrill-seekers are racing to pre-order the new GMC Hummer all-electric supertruck, which is expected to be available for sale in the Fall of 2021. Offering output up to 1,000 hp and…